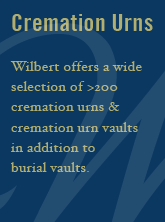 Personalization
Wilbert offers multiple ways to personalize a burial vault or urn vault with words, symbols, and images that speak of a singular spirit. Your loved one had a unique personality. The selections you make for the visitation and service should communicate that singular spirit. These choices ensure your loved one's memory is remembered for generations to come.
History of Arnold Wilbert Corporation

The Arnold family migrated from Germany to Winnipeg, Canada where they manufactured tombstones and architectural cut stone. They then migrated to the United States and started Arnold Stone Brick and Tile Company of Jacksonville, Florida and then to Greensboro, North Carolina where they established the Arnold Stone Company in 1932. Arnold Wilbert Corporation is the successor to Arnold Vault Company in eastern North Carolina. It became a separate corporation in 1947. Arnold Vault Company was the 17th licensee of Wilbert W. Haase Company, Wilbert, Inc.
Arnold Wilbert's main offices and manufacturing facility are located in Goldsboro, NC with a warehouse and service operations in Wilmington, NC. The offices in Goldsboro were built in the early 70s and the crematory was added in 1990. In 1996, we added 2500 sq. ft. dedicated to the education and training of our Funeral Professionals. Shortly after, we increased our production facility by 5000 sq. ft. All told, there are 65 employees in the Carolinas operations plus management. With its' many facets of operation, Arnold Wilbert is a leading burial vault, cremation urn product, and burial and cremation services supplier in Eastern North Carolina.

In 2003, Arnold Wilbert purchased Charleston Wilbert (which has 10 employees) in Summerville, SC, and in 2005 the company became a Redi-Rock dealer for eastern North Carolina and South Carolina. The company continually looks at acquisitions and mergers that will help grow its core business and add value to its customer relationships.
Wilbert, Inc.'s roots go back to the 1880's with the L.G. Haase Manufacturing Company, which produced concrete products including cemetery markers. It sold its first concrete burial vault in the Chicago area in 1913. In 1928 experimental work began on an asphalt lined burial vault. In 1929 the firm of Wilbert W. Haase Co. was established for the purpose of manufacturing patented asphalt lined burial vaults under the WILBERT trademark. Exclusive territories were sold under license agreements with the Haase Company. The licensees collectively purchased all Mr. Haase's interest in his company in the middle 1940's and changed the name of the company to Wilbert, Inc. in the mid 1960's. There are currently over 200 Wilbert Licensees with over 300 outlets in North America.
Arnold Wilbert Corporation Vision
To be the leader in our industry in both innovation and performance
To bring Value to our customers, through dedicated employees, quality products and service
Arnold Wilbert Corporation Mission
To provide the highest quality products and services to our customers
To invest in our employees through education and training, enabling them to provide the very best in customer service
To continually look at acquisitions and mergers that will help to grow our core business and add value to our customer relationships
To always operate the business with the highest level of honesty, integrity and compassion